Aaah,the ever-evolving family-room-turned-dining-room.
This latest change required two strong high school football players and a grown man to move a newly found treasure into it's place of prominance on the huge dining room wall.

Eight feet wide and nne feet tall at the top of the mirror, this abulous old buffet (Sideboard? Welsh Cupboard?) looks as if it has always been here, in this very spot.
Do you remember this room before?
And before then?
...and before that...
And now...
It's become a thing of beauty, I tell you.
But....
I think it will be even more beautiful, and updated-vintage if...it were painted. (seriously, can you see it painted, in your mind's eye?)There is just so much wood in the room. The table. The chairs. The shutters. And now, the buffet.
So, yes, I plan to paint it.
I am just torn on the color to go with.
A weathered white would be classic, and timeless, and go well with the english pine dining set, don'tcha think?
( via )


Then again, gray is a wildly popular "new neutral" color, and I can see it done up that way too...
( via )
or, a color and weathered white...?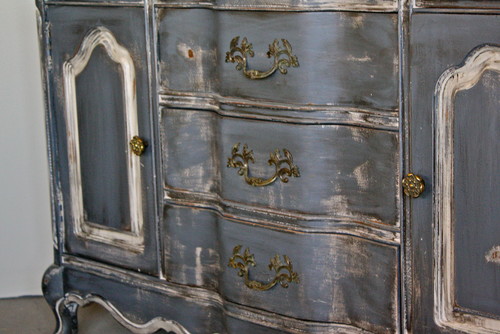 What would you do?I am really stumped and I'd love to hear your thoughts!